Dublin Airport Hotel
An overnight stay at a Dublin Airport hotel is not only convenient but time saving as well. What's more is an airport hotel at Dublin can be more affordable than you think, we recommend the Hilton Dublin which is situated just 4 miles from the airport.
Hilton hotel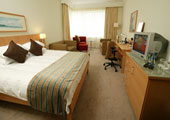 The Dublin Hilton is a 4-star hotel located approximately 5 miles from the airport.
When flying from Dublin Airport, book a pre-flight stay at the Hilton hotel for a night of luxury...