Doncaster airport parking
One of the smaller regional airports in the UK, Doncaster Airport nevertheless sees over one million passengers pass through its door every year. If you are one of these, BCP can provide top notch security for your vehicle while you are away in our superb airport parking facility at Doncaster.
Parking at Doncaster Airport can be made a lot cheaper when you pre-book online with BCP. Booking Doncaster parking far enough in advance can see you make savings of up to 60% off the on-gate parking price, and ensures a space is reserved and waiting for you on your arrival.
In addition, our Doncaster Airport car park is covered by a Price Protection promise, so you're sure of paying the lowest price possible for this great parking facility.
Doncaster airport parking at a glance
342 customer reviews rated BCP

Doncaster airport parking

90

%
Pre-booking your Doncaster airport parking can save you money
Book your stay online to guarantee your space on the day
Free return transfers where needed
Security for your car while you are away
Doncaster airport parking
Airport car park
Price (8 days)*
Transfer
On-airport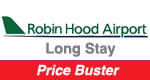 Robin Hood Doncaster Airport Parking
£34.99
within walking distance
Yes
*Prices featured are for 8 days parking from
1 January 2013 to 8 January 2013
.
For a personalised quote please make a search for the dates you require.
Key :

= Doncaster car parks
Doncaster car parks
To view the name and address just click the red pin icon.
Use the scale or arrows on the left hand side of the page to increase/decrease the detail of the map, the further up the scale the more detailed the information. There are three different types of map - use the Map, Satellite and Hybrid buttons to change the style.
On-airport parking at Doncaster Robin Hood
There is a convenient Doncaster parking option that is actually located within the airport perimeter. Save some money by pre-booking your airport parking. Doncaster Robin Hood Airport is just a short walk away.
Booking Doncaster airport parking with BCP
BCP offer the best car parks at the best prices - whether you are travelling for 1 day or 1 month, we have the right choice for you. Our secured compounds are manned 24 hours of the day and even operate return transfers throughout the day and night so you don't need worry about that late return you might have.
Doncaster Robin Hood airport parking information
On-airport/off-airport: The Robin Hood car park offered by BCP is situated on the main site, adjacent to the main terminal building. Although other car parks are provided by Doncaster airport, BCP offers the most convenient location at the best possible price.
Budget parking: BCP aim to provide the best value airport parking on the entire market. You will not find cheaper airport parking for Doncaster airport anywhere on the web. Guaranteed.
Check-in: As the On-airport car park is located only a short distance from the Doncaster terminal, no hectic transfer system is necessary.
Disabled customers: Please check the individual facilities available from the different car parks at Doncaster airport.