Southend airport parking
Get an unbeatable deal on airport parking that's just 25 yards from the edge of the airport when you book in advance with BCP. Working alongside Maple Manor Parking, BCP Southend airport parking offers an authority and respectability equivalent to that of the 20-year old brand, Maple Manor. Offering Park and Ride and Meet and Greet parking at Southend airport, you won't find a cheaper or more reliable service than BCP; our Price Protection policy makes sure of that.
Don't wait until the day you travel to pay to park your car at Southend airport, book early and save up to 60% off the on-gate parking price. Booking in advance ensures that staff will have a car parking space ready and waiting for you when you arrive.
Southend airport parking at a glance
58 customer reviews rated BCP

Southend airport parking

86

%
4 minute drive to Southend airport
Staff are mature (over 25)
Park and Ride offer free transfers to and from Southend airport
CCTV, fencing and regular security patrols
Security staff who live on-site
Southend airport parking
Airport car park
Price (8 days)*
Transfer
On-airport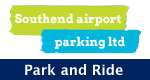 Park and Ride Southend Airport Parking Ltd
£41.65
5 mins
No
Southend Meet and Greet airport parking
Airport car park
Price (8 days)*
Transfer
On-airport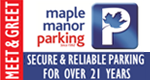 Southend Airport Parking Ltd Meet and Greet
Search for Price
within walking distance
No
*Prices featured are for 8 days parking from
1 January 2013 to 8 January 2013
.
For a personalised quote please make a search for the dates you require.
Key :
= Southend car parks
Southend car parks
To view the name and address just click the red pin icon.
Use the scale or arrows on the left hand side of the page to increase/decrease the detail of the map, the further up the scale the more detailed the information. There are three different types of map - use the Map, Satellite and Hybrid buttons to change the style.
On-airport parking at Southend Airport
Although no parking is physically on-airport, Meet and Greet parking at Southend allows you to drive your car to the airport, and unload your bags while a chauffeur parks for you. It's the simplest way to park your car.
Southend airport Off-airport parking
Park and Ride at Southend airport is ideal if you are looking to spend less on airport parking this holiday. The off-airport Park and Ride service provides a free, 5 minute transfer service, and is just 25 yards from the perimeter of Southend airport. Both options for car parking at Southend airport are off-airport, although Meet and Greet allows you to drive to the terminal building while a chauffeur takes your car to the off-airport car park, and Park and Ride involves catching a transfer bus from the off-airport base.
Southend airport parking information
On-airport/off-airport: Both Southend airport car parks are off-site, although Meet and Greet allows you to drive right up to the terminal building for super convenience.
Budget parking: Save money by booking Southend airport Park and Ride car parking. You'll need to take a transfer to the airport, but it'll only take five minutes, if that!
Security: With security staff that live on-site, who make regular patrols, perimeter fencing and CCTV, you can rest assured that your car will be kept in safe hands at both BCP Southend airport car parks.
Disabled customers: Please check the individual facilities available from the different car parks at Southend airport.