Stansted airport parking
Airport parking is one of those little details that can be so easily overlooked in the run-up to a holiday. But if you book Stansted airport parking early you could find yourself saving a tidy sum rather than if you left it until the last minute. And the more you save by booking with BCP, the more you'll have to spend while you're away.
Stansted parking at a glance
1514 customer reviews rated BCP

Stansted parking

86

%
Choose from three Stansted parking options
Pre-booking with BCP will guarantee your car parking space
Quick transfer times
Park Mark awarded car parks with 24 hour security
Low prices on car parking packages
Stansted airport parking
Airport car park
Price (8 days)*
Transfer
On-airport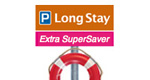 Stansted Long Stay Parking
£49.50
[supersaver price]
15 mins
Yes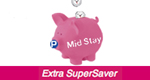 Stansted Mid Stay Parking
£58.75
[supersaver price]
5 mins
Yes
Stansted Meet and Greet airport parking
Airport car park
Price (8 days)*
Transfer
On-airport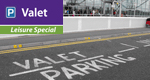 Stansted Official Valet Parking
£74.50
within walking distance
No
*Prices featured are for 8 days parking from
1 January 2013 to 8 January 2013
.
For a personalised quote please make a search for the dates you require.
Key :
= Stansted car parks
Stansted car parks
To view the name and address just click the red pin icon.
Use the scale or arrows on the left hand side of the page to increase/decrease the detail of the map, the further up the scale the more detailed the information. There are three different types of map - use the Map, Satellite and Hybrid buttons to change the style.
Extra Supersaver at Stansted
Customers for Stansted airport parking can get an even cheaper rate by booking Extra SuperSaver with either Stansted Mid Stay or Stansted Long Stay car parks. This offer is non-flexible and is only available until Monday, August 19 so make the most of it before the Summer's out!
On-airport Stansted car parking
For great value Stansted parking, have a look at either of BCP's on-airport car parks. Despite the names – and Stansted Long Stay Parking and Stansted Mid Stay Parking – you can book to park in either of these Stansted car parks for as long, or as short a duration as you need. Both car parks offer regular 24-hour transfers that take between five and 10 minutes to reach the terminal, so you won't find yourself waiting out in the cold.
Meet and Greet Stansted airport car parking
Stansted Official Valet Parking is the most efficient airport parking at Stansted. If you're likely to be snowed under with ski gear, or struggling with snowboards and the like, why not save yourself the effort of travelling on transfer buses by opting for meet and greet? It's very straightforward: you just drive your luggage-laden car to the airport and unload your equipment. Then, let a chauffeur park your car so you can save your energy for the slopes.
Do you ever find that, even when all you've done on holiday is relax, you still need some recovery time when you get back? Well, if you've chosen Meet and Greet parking at Stansted airport, you get exactly that. Your car is brought to you at the airport, so you can hurry back to all your home comforts.
Stansted airport parking information
Budget parking: Long Stay Parking is the cheapest car park at Stansted, but only just. Stansted Mid Stay is just marginally more expensive than Long Stay, and provides faster and more frequent transfers to the airport.
Disabled customers: Please see individual Stansted airport parking pages for disabled facilities.