Inverness airport parking
BCP can help save you both time and money when booking airport parking. Inverness airport is the gateway for the Highlands of Scotland, mainly offering flights to the UK and some european destinations. At BCP we check our prices every week to make sure we get you the best deals on your parking at Inverness airport. Parking charges can be expensive and the best deals are available if you pre-book well in advance.
Inverness airport parking at a glance
323 customer reviews rated BCP

Inverness airport parking

84

%
Pre-booking guarantees your space
Book in advance and pay the best price
Walk to the terminal from your car
Peace of mind with secured compounds at Inverness airport
Inverness airport parking
Airport car park
Price (8 days)*
Transfer
On-airport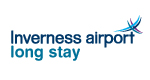 Inverness Airport Long Stay Parking
£48.00
within walking distance
Yes

Inverness Short Stay Airport Parking
£80.00
within walking distance
Yes
*Prices featured are for 8 days parking from
1 January 2013 to 8 January 2013
.
For a personalised quote please make a search for the dates you require.
Key :

= Inverness car parks
Inverness car parks
To view the name and address just click the red pin icon.
Use the scale or arrows on the left hand side of the page to increase/decrease the detail of the map, the further up the scale the more detailed the information. There are three different types of map - use the Map, Satellite and Hybrid buttons to change the style.
BCP understand that while you want the best possible service for your airport parking, you probably don't want to spend too much on the pleasure. This is why we suggest pre-booking your parking so you can get the best deal on the most convenient car parks. Pre-booking guarantees both your parking space and the best prices.
For a quick, stress free option to your airport parking, choose on-airport parking. You can park up and stroll across the road to the terminal building for the most hassle free start to your break. Nothing could be more easy than that, so don't delay, book your Inverness airport parking today!