Glasgow airport parking
Our prices are checked every day to make sure we are providing the cheapest and best Glasgow airport parking deals. All our car parking at Glasgow Airport is Price Protected so you know you are getting the best price possible. BCP are also on-hand throughout the whole process to help you with your booking and assist you if needed.
Don't wait to book your airport parking. Get instant quotes for the dates you need now and book today to get the best advanced-rate for airport parking at Glasgow International.
Glasgow airport parking at a glance
349 customer reviews rated BCP

Glasgow airport parking

88

%
Choose from two Glasgow parking options
Pre-booking guarantees your space
Online bookings can save you money
Rapid transfers
A wide choice of car parks at Glasgow airport
Glasgow airport parking
Airport car park
Price (8 days)*
Transfer
On-airport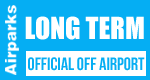 Airparks Glasgow
£35.99
10-15 mins
No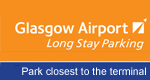 Long Stay Parking Glasgow Airport
£39.90
2-5 mins
Yes
Glasgow Meet and Greet airport parking
Airport car park
Price (8 days)*
Transfer
On-airport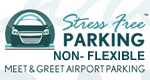 Glasgow Stress free Meet and Greet
Search for Price
within walking distance
No
*Prices featured are for 8 days parking from
1 January 2013 to 8 January 2013
.
For a personalised quote please make a search for the dates you require.
Key :
= Glasgow car parks
Glasgow car parks
To view the name and address just click the red pin icon.
Use the scale or arrows on the left hand side of the page to increase/decrease the detail of the map, the further up the scale the more detailed the information. There are three different types of map - use the Map, Satellite and Hybrid buttons to change the style.
On-airport parking at Glasgow
Glasgow Airport Long Stay Parking is a parking option situated within the airport perimeter. Transfers run frequently between the car parks and the terminals taking only a couple of minutes. This added convenience makes on-airport parking slightly more expensive than off-airport car parking. Glasgow airport parking charges can be expensive so pre-book early to get the best deal.
Off-airport parking at Glasgow
Off-airport car parking at Glasgow is the best value option. There are still regular transfers to the terminals, it's just takes a couple of minutes longer. Try out Airparks Glasgow but don't forget to pre-book early to get the best deals on your airport car parking. Glasgow airport is still just a short transfer away.
Glasgow airport parking information
Budget parking: Want to save some money on your Glasgow airport parking? Book Airparks Glasgow for a fast, efficient and cost effective service.
Security:Airparks Glasgow has recently been awarded the prestigious Park Mark award for its exemplary security record. High fencing, floodlights, 24 hour CCTV and security patrols feature in Glasgow airport car parks.
Advance Purchase: A special cheaper rate is available for customers who are willing to book in advance. Though these deals may incur their own terms and conditions, they can lead to big savings. Please call our booking hotline to enquire about the Advance package.
Disabled customers: Please see individual parking pages for disabled facilities