Crowne Plaza NEC hotel
The luxurious 4-star Crowne Plaza is located just 1.5 miles from Birmingham Airport.
Close to the airport as well as Birmingham city centre, the Crowne Plaza is a great-value airport stopover. For comfortable accommodation in a great location, book the Birmingham Crowne Plaza when flying from Birmingham Airport.
Address:
(View
Map
)
Pendigo Way,
National Exhibition Centre,
Birmingham
B40 1PS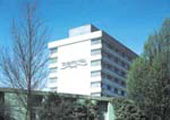 Room Facilities: All guest rooms have an en-suite bathroom, air conditioning, tea/coffee maker, colour television, hairdryer, mini-bar and internet access.
Leisure Facilities: There is an on-site fitness facility available to guests, offering a sauna and gymnasium.
Dining at the Crowne Plaza: The Crowne Plaza Restaurant is open for breakfast, lunch and dinner offering a wide range of British dishes.
The Restaurant is closed between 24the Dec and 3rd Jan with limited dinners provided in the bar.
Transfers to and from Birmingham airport ... The hotel's free shuttle bus to the airport runs every 30 minutes from 6am to 10pm. The journey takes about 10 minutes.
Hotel parking:
Parking at Crowne Plaza: An 8 or 15 days parking package is available on-site at the hotel.
Check-in and check-out: You can check in from 2pm; you must check out by noon.
Key :
= Crowne Plaza NEC Hotel
Crowne Plaza NEC Hotel
To view the name and address just click the red pin icon.
Use the scale or arrows on the left hand side of the page to increase/decrease the detail of the map, the further up the scale the more detailed the information. There are three different types of map - use the Map, Satellite and Hybrid buttons to change the style.