Southampton Airport Hotel
In need of a Southampton Airport Hotel? Look no further than BCP as we have THE perfect Southampton Airport Hotel for you, the Holiday Inn Southampton is a comfortable 3 star hotel located just two miles from the airport.
An airport hotel at Southampton is the perfect way to relax before your trip and provides an essential head start on the morning of your flight.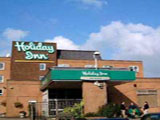 The Holiday Inn is a modern four-star hotel which has just been refurbished. It is less than three miles from Southampton airport and is easily accessible from the M3 and the M27. Transfers to the...