Butler's Wharf Car Parking
A few minutes walk from the River Thames is the Butler's Wharf Car Park, situated just south of Tower Bridge, this car park offers superb scenic views as soon as you step out of the park! Customers who pre-book this central London car park can save up to 40% with BCP and guarantee their car parking space.
Why book Butler's Wharf Car Parking with BCP?
We offer THE best prices on car parking at London.
We can guarantee your Butler's Wharf Car Parking space from the moment you book.
BCP's London car parks all have entry barriers, regular security patrols and CCTV coverage.
All London car park bookings made via BCP are safe and secure.
Click on the map to activate
Information about Butler's Wharf car park

Nearest Tube: The nearest tube station to Butler's Wharf Car Park is Tower Hill
Maximum Car Size: The car park has a height restriction of 1.95 metres.
Opening Hours
Butler's Wharf Car Park is open 24 hours a day. The cost is per 24 hours of stay, being taken from the time that you enter the car park on the day of travel. If you go over the 24 hour time limit, periods booked will be charged locally at the car park.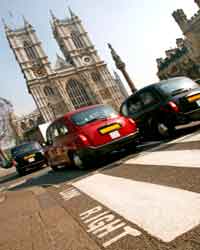 Address
Butlers Wharf
46 - 50 Gainsford Street
London
SE1 2NY
Nearby Attractions
Riverside bars and restaurants
Conran Restaurants: Pont de la Tour, Chop House and Cantina
Tower Bridge
Tower of London
Other BCP London parking options
Queensway car park, London Pimlico car park and London Marble Arch car park amongst others.
Security
The secured Butler's Wharf Car Park is manned 24 hours a day and also features CCTV.
On Arrival
On arrival at the car park entrance take a ticket and proceed to park your car where directed. Please note that you may need to leave your keys with the car park.
On Departure
On your return please take your confirmation to the attendant who will allow exit from the car park.